Here, we are going to discuss the top-listed SEO trends and techniques of 2022 to get a high rank and boost traffic for businesses.
Basically, What is Search Engine Optimization(SEO)?
Search Engine Optimization is one of the best processes to get organic(natural) traffic to your website without doing any paid promotion. The proper SEO work helps your business website to get ranking in Google search result pages also.
Whether you are thinking to buy website traffic or not but our below important and proven SEO trends for 2022 are really worth applying.
You can easily find so many other ways of SEO activities from anywhere online, but here only we are sharing with you the top-listed SEO trends of 2022 which decide the future of your websites.
Which are the most important SEO trends for 2022 to keep in mind?
1. Role of AI (Artificial Intelligence) in SEO
(What is Artificial Intelligence? –  Artificial intelligence is intelligence demonstrated by machines, as opposed to the natural intelligence displayed by animals including humans.)
As Google will make smarter, Artificial Intelligence will also be considered as the most important factor for your website ranking. Ai will use its capability of monitoring to provide your users with their more likely things in search engines automatically.
If you don't know then we tell you that Google already released their algorithm in 2015 which is "RankBrain". It is also a machine learning-based algorithm that helps Google to provide more relevant results for users. So there's no doubt that if you want a better ranking then you must keep in mind about Artificial Intelligence.
How Does AI Help SEO? Understand the main benefits as below.
AI Can Create Better Content For Excellent SEO Result

AI Have Better Ability Of Analytics Which Helps For Accurate SEO Strategy

AI Makes Good Personalization Strategies To Get More Audiences.

AI Can Easily Improve Your Brand Visibility

AI Will Use Amp(Accelerated Mobile Pages) For Page Speed

AI Can Easily Increase Organic Traffic And Business Growth
2. Importance of Core Web Vitals | SEO trends for 2022
Core web vitals gives you the one kind of report related to your website pages. If there are more pages with errors then you must have to solve them for a better user experience.
It calculates the important things which should be improved in your website and other factors to make your website perfect.
Core web vitals concern your website responsiveness, visual quality, and website speed time. In many different ways, the user experience may have a powerful impact on your SEO ranking.
In 2022, you can use this strategy to beat your competitor as many SEO pros are ignoring the changes given by core web vitals.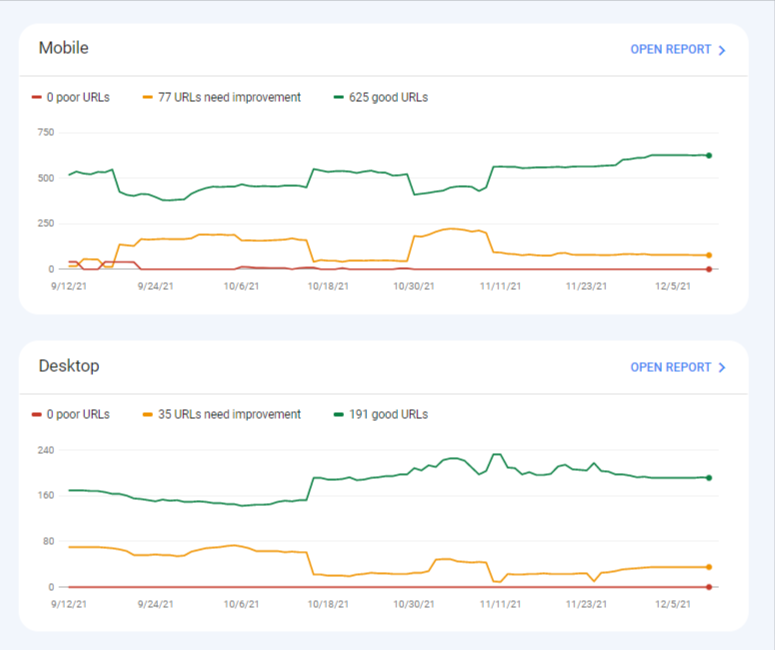 Why are core web vitals important for better SEO?
It Makes Your Website More Organized

Improve The User Experience Of Your Website

It Helps Your Website To Become Mobile Friendly

Make Your Site More Secure For Users

It Helps You To Stop Pop-Up Advertises
3. Mobile SEO already Make Their Important Place in Industry
I think everyone is aware already of mobile SEO which is also an effective SEO trends for 2022 which is mobile-friendly websites. As simple as this strategy, you can get more traffic very easily from mobiles. In today's world, It's very crucial that how to increase mobile visits to your website?
We know that mobile users will never decrease, they always increase day by day. Once any mobile user comes to your website then your website must be mobile-friendly otherwise you lose them.
If your website is not mobile-friendly then you lose mobile visitors and Google's trust also. Mobile-friendly sites can give the ranking of your website in mobile search results with the help of Google.

Why is mobile SEO important in 2022?
It Makes More Easy To Access Your Website By A Mobile User

Mobile-Friendly Websites Can Get More Rankings In Serp

Decrease The Chance Of Website Loading Speed

Chance Of Belief In Your Website Will Automatically Increase

It Improves The Mobile Conversation Rates
4. Long-form Content with Quality | SEO trends for 2022
We all know that content is always king but the important thing is that content should come with quality and long-form. Here we mention two factors in the content that "Long-Form" and "Quality" let's understand
How to create long-form content?
So many blog owners post a blog with a long length but still, they aren't able to get that kind of traffic as they accepted.
Creating long-form content does not mean putting big and long content on websites or blog posts. Long-form content must be required, but it should also be engaging and valuable for your users.
Below foolproof tips help you to create long-form content for your websites.
Divide content into paragraphs

Put images between contents for more engagement

Always use header tags (H1 to H6)

You can also add video or Infographics

Ad question in some topics to make it different

Explain definitions if needed below the related topics

Show the importance in list view (like this), Etc….
Why should you have to create quality content on your website?
Quality content not only helps your user to keep interesting but also win the trust of Google which makes a plus point for your website. Quality content must be there on your website if you keep engaging your users and want to rank your website.
If any user gets your content valuable then they can share your content also, which gives you more organic traffic. There's no doubt that quality content is always the main thing when you think about your website ranking.
8 Key Benefits of Quality Content are as below
Quality content makes you unique

Helps your website visibility

Easily get a good ranking for your website

The chance of sharing your content will increase

Quality content can be found easily for users

Website ranking will be stable for a long time due to quality content

It improves conversations

Improve social media engagement
5. Include Video is Must Necessary | SEO trends for 2022
We know that unique and impressive content is always an important part of your website. But we highly recommend adding a video in your content either on website pages or blog sections.
Nowadays, people are more interested in watching videos. You can easily engage with more people by posting your content videos in between your content.
The best ideas for creating videos are like any tutorials, tips, how-to videos, business or products demo, and many more.
This important SEO trend of 2022 will make your page more informative and trustworthy for both the users and Google bots.
Why is Video Content Important in 2022?
"In Short words – Video is now not only a recommendation but becomes a requirement."
The Below benefits are enough to understand the importance of video content.
Easily Get More Attention Of Audiences

Conversations Can Be Increase

Your Content Will Included In Trustworthy Category

Your Website\Blog Will Increase Rank In Search Engine

Easily Increase Organic Traffic From Mobile Users

Chance Of Sharing Your Content Will Be Increased
Conclusion
SEO trends for 2022 will definitely help your website to get good better ranking and business growth. So what are you waiting for?
If you can't decide where to start SEO for your websites, then you can buy website traffic from us that converts into leads and customers easily.
If you have any kind of doubt Our SEO experts are always ready to help you. We are providing 100% quality SEO services with keeping the Google algorithms and all.
You can also watch out the interesting youtube video based on our SEO trends for 2022 below.